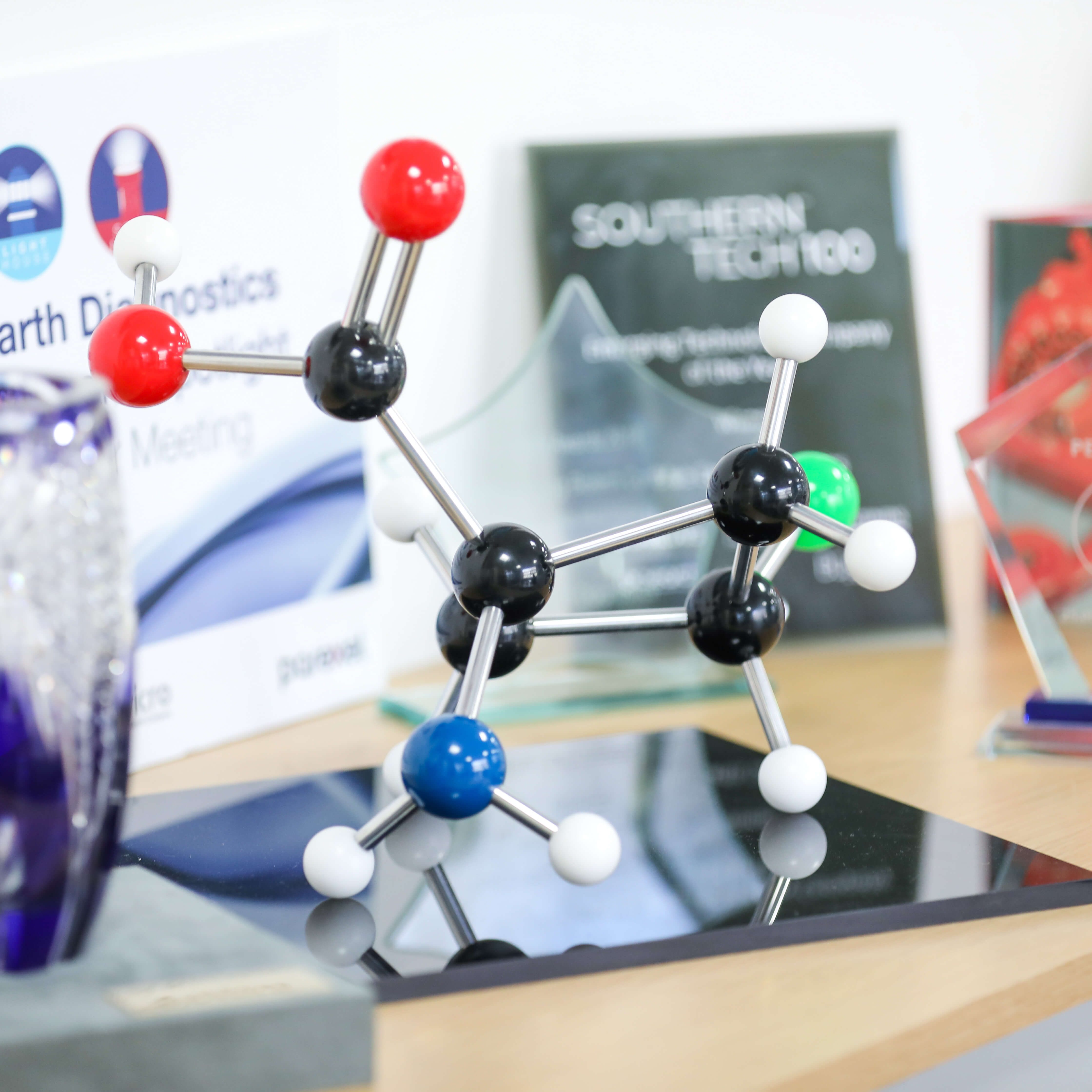 ABOUT
BLUE EARTH DIAGNOSTICS
Blue Earth Diagnostics, an indirect subsidiary of Bracco Imaging S.p.A., is an established molecular imaging company on a growth trajectory to provide innovative, well differentiated diagnostics solutions, informing patients and driving future therapies in cancer. Formed in 2014, Blue Earth Diagnostics' success is driven by its management expertise and agility, supported by a demonstrated track record of rapid development and commercialisation of positron emission tomography (PET) radiopharmaceuticals. Blue Earth Diagnostics' clinical focus is exclusively in cancer, with an expanding pipeline in disease states. Blue Earth Diagnostics' strategy is to apply its knowledge and expertise to developing promising cancer radiopharmaceuticals for imaging.
Empowering the evolution of care for patients with cancer
History
OUR STORY
2014
The Blue Earth Diagnostics story begins in 2014, when the company was formed in Oxford, UK by Dr Jonathan Allis. Jonathan and his team strongly believed in the potential of precision radiopharmaceuticals and established Blue Earth Diagnostics to bring these innovative technologies to clinicians and patients worldwide.
The company is named after Blue Earth County in Minnesota, USA, where Sir Henry Wellcome, founder of the Wellcome Trust, spent his childhood. Sir Henry was one of the most fascinating individuals of his time. A businessman, collector and philanthropist, he was born in the American West but ended his days as a knight of the British Realm. He co-founded a multinational pharmaceutical company that funded pioneering medical research, and in his lifetime, scientists funded by Sir Henry made great breakthroughs into understanding how our bodies work. After his death, Sir Henry's will provided for the creation of the Wellcome Trust.
Blue Earth Diagnostics' founding investor was Syncona, a leading FTSE250 healthcare company focused on investing in and building global leaders in life science. Syncona is aligned with two of the UK's premium charitable funders in life science, the Wellcome Trust and Cancer Research UK.
Blue Earth Diagnostics' first commercially available product, a diagnostic PET molecular imaging agent, was invented at Emory University in Atlanta, Georgia, USA. The Emory University patents were licensed to Nihon Medi-Physics (NMP, Japan), and then to GE Healthcare before licensing it to Blue Earth Diagnostics in 2014.
2015
Blue Earth Diagnostics announces that the New Drug Application (NDA) filing for fluciclovine (18F) has been accepted by the US Food and Drug Administration (FDA) for Priority Review.
An exclusive US commercial manufacturing and distribution agreement with Siemens PETNET Solutions is signed.
2016
The company expands in 2016, opening a US headquarters. US FDA approval for Axumin® (fluciclovine F 18) for use in PET imaging is received in May.
Blue Earth Diagnostics launches Axumin for US patients in June 2016.
2017
In May 2017, the European Medicines Agency grants the marketing authorisation for Axumin® (fluciclovine (18F)).
2018
Blue Earth Diagnostics expands its portfolio of products and technologies for cancer through exclusive licensing of a family of radiohybrid agents. These innovative molecules have potential applications in both imaging and precision therapy.
In April, rapid growth of the company requires a move to a new global headquarters in Oxford, which was officially opened by Chair of the Wellcome Trust, Baroness Manningham Buller.
2019
In August, Bracco Imaging S.p.A announces the acquisition of Blue Earth Diagnostics as an indirect subsidiary of Bracco Imaging. The combined business leverages Bracco's diagnostics modalities, global competencies, portfolio and financial resources. Blue Earth Diagnostics continues to be led by our leadership team and retains our well-established Blue Earth Diagnostics name. Our headquarters remain in Oxford, UK whilst maintaining a significant and operational presence across the US.
2020
Blue Earth Diagnostics signs an exclusive agreement with Scintomics GmbH to acquire exclusive, worldwide rights to therapeutic applications of a novel radiohybrid technology.
2021
Blue Earth Therapeutics, a sister company to Blue Earth Diagnostics Ltd and part of the Bracco family of companies, is formed to focus on the advancement of next generation targeted radiotherapeutics to treat patients who have cancer.
2023
In May, the US FDA grants approval for POSLUMA® (flotufolastat F 18) Injection.
PP-UK-0632/ July 2023